My friend once encouraged me to make oat bars. After I took a tray and faced the beautiful smell of baked oats with honey and walnuts, I felt like this is not the end. And that's when the idea was born...
First packaged batch was baked for my friend's birthday. I used a "Tasty" logo - a foundation of my new identity which is based on my Czech surname

Chutný 

which literally means 

Tasty

.
Kayo liked it so I went further. Baked another flavour, increased size and improved the manufacture process (note the clamps holding the glued sides!). I started to give them out to friends to see how they like them. And they did! So I brought them to christmas fair, and they were gone in one hour
I came up with

colour palettes for various ingredients

that I am using and applied them to each flavour of bars. It was usually approximate colours of the ingredient's photographs (e.g. what is the approximated yelowness of a banana?)
Trying to avoid sugar, artificial flavours and putting in good ingredients - the "

honest

" in the name emerged, and Honest bars were founded. Polka dots changed to appealing stripes full of colour.
Finding my honest oat bar project little bit unsustainable being a student, I put a price on them - £1 for a bar, simple pricing, convenient for students and friends carrying change usually :)
High on the joy of offering a healthy, tasty snacks to people around me, I would cycle Dundee every second day to deliver bars to friend's flats, or do deliveries in the Art College. Facebook page for the bars was created to inform people about new, freshly made batches. Good times! Even the baby from farmer's market back home in Czech Republic seems to like the bar!
Over the summer holiday, I experimented with vacuum packing and finally made a packaging that really shows it's contents, and also fully insulates the flapjack from outside world.
Motivated by another friend of mine, interested in healthy food - I set myself to create a Honest Granola. First, I prototyped a novel but little complicated way of packaging it
And in the end went for more convenient solution, using re-sealable zip-loc bags with heavy paper cover which can be closed anytime, having a not-too-sticky doublesided tape on the front. Honest Müsli/Granola was born!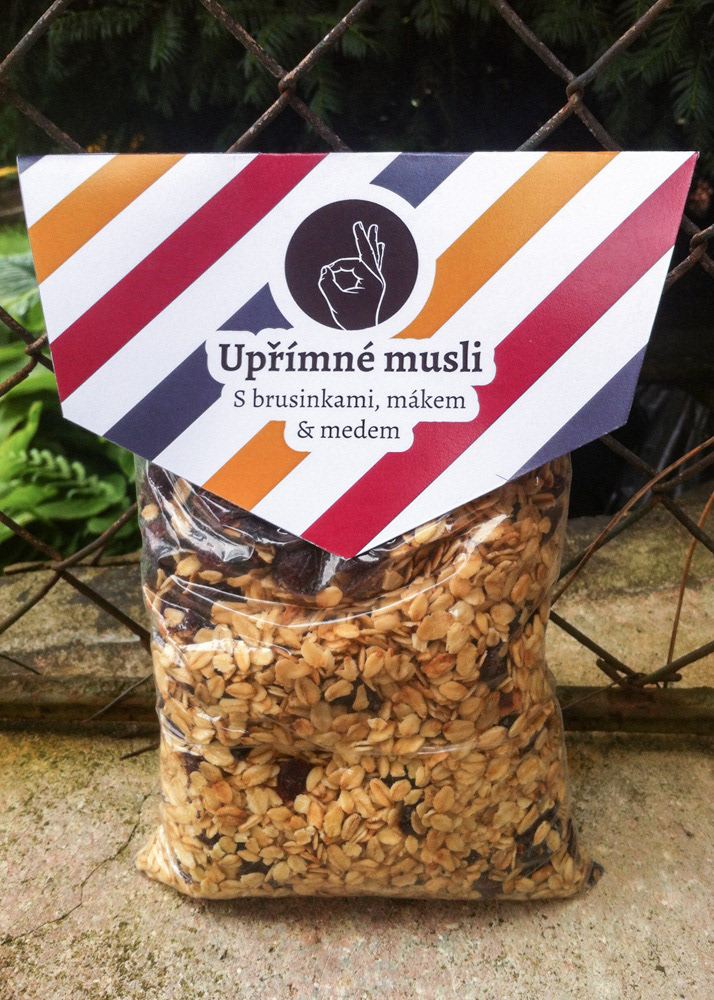 Since this project is mainly fun and a neverending learning experience, who knows what's going to be the next step. The number of bars made is reaching 1000 now :) I  have received a lot of energy from all the supportive people and friends around me - THANK YOU! It's also you who make these happen.